Transcendent Art Gifts & Metaphoric Story Art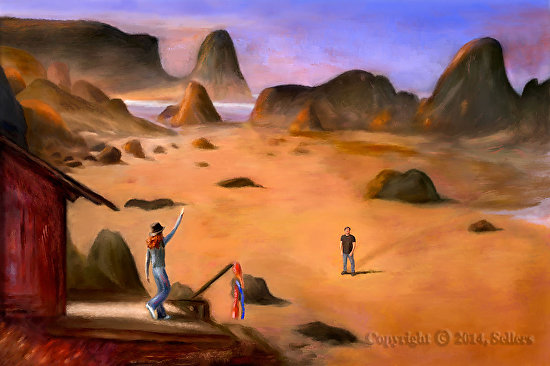 The metaphoric story art of Bob and Donna Sellers, utilizes feminine and masculine archetypes to inspire stories of the romantic past, and to suggest imaginative stories of now and beyond. "Our art appeals to those who wish to explore outside their usual patterns, beyond the gate, thereby creating greater self-knowledge and flexibility while traveling the journey of life."

"We honor imagination as a source of creative expression and an aspect of the Goddess which is within all the feminine."

"Our feminine story art is based upon the psychology of Carl Jung who believed life is a journey leading us toward greater individuation and the integration of both the conscious and the unconscious."

"We have found that using Jungian symbolism, imagery, and metaphor in our art, reveals deeper meanings and encourages an imaginative journey."

"We use a variety of artististic methods to evoke feelings, meaning and creative possibilities including painted montages, strong color and psychodramatic scenes."

"The what and how of our work reminds us of Norman Rockwell's story art which mostly depicts everyday life in the American community. Our 'Back In Time' Collection represents this theme, while our Feminine Art reflects the inner life or unconscious life of people."

"Our 'Coastal Color' Collection represents life along the Northern California coast and reflects the place we live and love.

"Our Transcendent Miniature Art makes a great gift. You may also want to give yourself a gift, recognizing and appreciating your own journey."